Two RRF Trustees were recently recognized for contributing their talents and expertise to help nonprofit organizations fulfill their missions and better serve their communities.
Nathaniel McParland, a Trustee since 1991 and Chair of the Board since 2008, recently received the Sage Award for Healthcare & Health Services from the Council on Aging of Martin County in Stuart, Florida. The Council on Aging helps seniors remain independent and healthy by providing nutrition programs, adult day services, primary medical care, caregiving support, and care management.  Dr. McParland was recognized for his active involvement and leadership in such vital programs as the Kane Clinic and Vets Helping Heroes.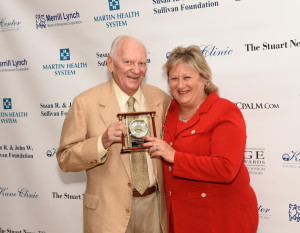 Photo is of Dr. Nathaniel P. McParland and Karen
Ripper, RN, MBA, President & CEO of the Council on
Aging of Martin County, Stuart, Florida
Marilyn Hennessy, retired President of the Foundation and a Trustee since 2009, was honored at the Benedictine Sisters of Chicago's 22nd Annual Testimonial and Awards Dinner.  The Benedictine Sisters is a monastic community of 42 women, almost all of whom are elders.  The order has made a commitment to care for them throughout their lives.  As a long-time supporter and strategic advisor, Ms. Hennessy has shared her wealth of experience in the philanthropic and business fields with the Benedictine Sisters of Chicago.